Gadgets & Gear: SanDisk Sansa Clip
by Paul Arnote (parnote)
I recently received a SanDisk Sansa Clip audio player as a gift. Sometimes, as anyone who has been around Linux for a while knows, it's a real hit-and-miss proposition on getting your new gadgets to work with, and interface with, Linux. With the SanDisk Sansa Clip, interfacing with PCLinuxOS is as easy as plug-n-play.
The SanDisk Sansa Clip comes in four different memory sizes – 1 GB, 2 GB, 4 GB, and 8 GB. My Sansa Clip is the 4 GB model. It also comes in five different colors – red, blue, black, pink, and silver. My Sansa Clip is black. My wife has a red 2 GB Sansa Clip that she received as a raffle prize, and is what prompted me to want one, too.
I do have other portable audio players (calling them MP3 players isn't entirely accurate, especially with the Sansa Clip). I have a couple of 2 GB Raven audio players, as well as a RCA audio player that takes standard SD memory cards (up to 2 GB). They all interface with PCLinuxOS in pretty much the same way, but the Sansa Clip has some features that make it stand head-and-shoulders above the rest.
Interfacing the Sansa Clip is as easy as plugging in the USB cord from the unit to your computer. PCLinuxOS will see the Sansa Clip as a USB drive, and allow you to open up a Konqueror window. Once you open Konqueror to display the contents of the Sansa Clip, you only need to drag files from your audio file collection into the Sansa Clip window to load files onto the device. It's really that easy. The 4 GB memory should allow you to load approximately 1,000 4 minute MP3 files recorded at 128 kbps. This translates into 4,000 minutes, or 66.7 hours, of playback. Of course, not all MP3 files encode the same, so you are unlikely to be able to load in the 1,000 4 minute MP3 files that is "theoretically" possible, since one minute of MP3 audio encoded at 128 kbps should "average" 1 MB in size.
One of the most outstanding features of the Sansa Clip is its support for playback of the open source formats OGG and FLAC. In fact, the playback of these open source formats is transparent, and works just as well as playback of MP3 files. Most any new Sansa Clip bought today should have full support for OGG and FLAC files. If you are buying a used one, make sure that it has firmware version 01.01.30 (or higher) to insure full compatibility to play back OGG and FLAC files. The Sansa Clip will also play WMA files.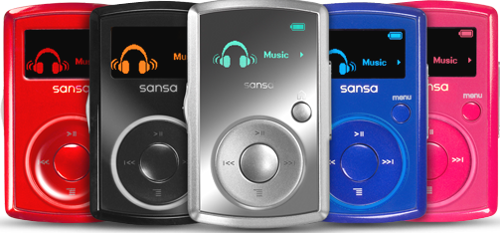 Another great feature of the Sansa Clip is its extremely small size. Weighing in at only 0.92 oz. (28 gr), it measures 2.17 inches (5.51 cm) tall, 1.35 inches (3.43 cm) wide, and 0.65 inches (1.65 cm) thick. Despite its small size, the Sansa Clip produces some big sound.
With its built-in rechargeable lithium-ion battery, the Sansa Clip will deliver up to 15 hours of continuous playback. The On/Off switch and the mini-USB plug are on the right side of the unit, and the volume switch and a 3.5 mm headphone jack occupy the left side of the unit. The front of the unit sports a 1 inch (2.54 cm) LCD multicolor display in a landscape orientation. Just below the display, on the right, is the "Home" button, which instantly returns you to the top level menu with one simple touch. At the bottom of the front side of the unit is a four position toggle switch to control the playback of files. The back of the unit features the clip, which allows you to clip the device to your pocket, collar, belt, bag strap, etc.
The Sansa Clip would be a great gadget, even if the features stopped there. But wait — there's more! The Sansa Clip also has an FM receiver built into it, with 20 user-defined presets to allow you to save your favorite FM radio stations. Additionally, the Sansa Clip has a built-in microphone that will allow you to record personal notes throughout the day, or even record that meeting that you have to attend (presumably, so you can make sure you don't miss anything important). Recorded notes are recorded in *.wav format. The Sansa Clip goes even one step further, allowing you to also make recordings from the built-in FM receiver.
The Sansa Clip has a "big brother," called the Sansa Clip+. The primary difference is that the Sansa Clip+ has a microSD card slot, which enables you to insert up to a 16 GB microSD memory card to further expand the device's memory. Some of the controls have been rearranged on the Sansa Clip+ to accommodate the microSD memory card slot. Another, larger, variant is the Sansa Fuze, which has the MicroSDHC slot as standard. You can display pictures on it as well as video clips, though getting the latter into the correct format in Linux is a problem. Both the Clip and the Fuze have the same excellent sound quality, and it's worth paying extra for some hi-fidelity headphones.
The Sansa Clip is very affordable, especially considering all its features. While it has a list price of $79.99 (U.S.), it can routinely be found for under $50 (U.S.). A quick search on the web will help you find the lowest price. In the United Kingdom, it can be got for around £30 for the 2Gb model.
| | |
| --- | --- |
| Sansa Clip | Specifications |
| Memory | 1 GB, 2 GB, 4 GB, 8 GB |
| Colors | Blue, Red, Black, Silver, Pink |
| Playback | MP3, OGG, FLAC, WMA, WAV |
| FM Tuner | Yes — 20 user-defined presets |
| Recording | Built-In Microphone, FM Tuner |
| Interface | Mini USB 2.0 (USB 1.1 compatible) |
| Suggested Retail | $79.99 (U.S.) (4 GB Model) |
| Street Price | under $50 (U.S.) (4 GB Model) |
Gadgets & Gear is a new section of the PCLinuxOS Magazine. Do you have a gadget, or a piece of gear, that you have successfully used with PCLinuxOS? Let the magazine staff know — or better yet, write it up yourself and submit your article to one of the magazine staff members! Simply post a message on the PCLinuxOS Forum (http://www.pclinuxos.com/forum), or the PCLinuxOS Magazine Forum (http://pclosmag.com/forum). Be sure to include a step-by-step account of what you had to do to get your gadget or gear running with PCLinuxOS. We welcome your submissions!