GBrainy
As one gets older, the mind sometimes weakens. I'm thinking that at my age, I need some exercises to keep my mind nimble. I like some of the crossword puzzles and word games. Is there anything in the way of computer games that might help? Well, sure, there are hundreds of computer games! However, we've played many of them so much now that it doesn't take much brainpower to succeed. Let's try something new.
GBrainy is a "brain teaser game and trainer to have fun and to keep your brain trained." It is in our repository. Simply go to Synaptic, mark GBrainy for installation and click Apply. When you open it, you get the screen shown below: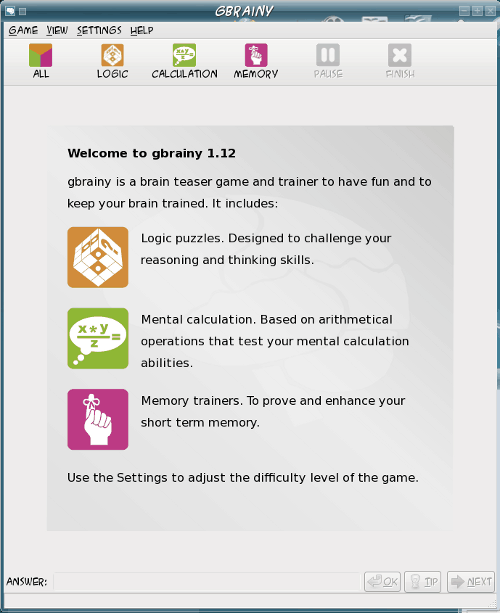 As you can see, three types of games are there for you to try. You may stick to one type or try a combination of two or all three types.
Logic Puzzles — In one type, you are asked to pick the design from a group which has the most in common with four other designs. In another type you are asked to fill in the blank to make the scales balance. In another type, you are given a series of numbers which follow a pattern and asked what the next number is.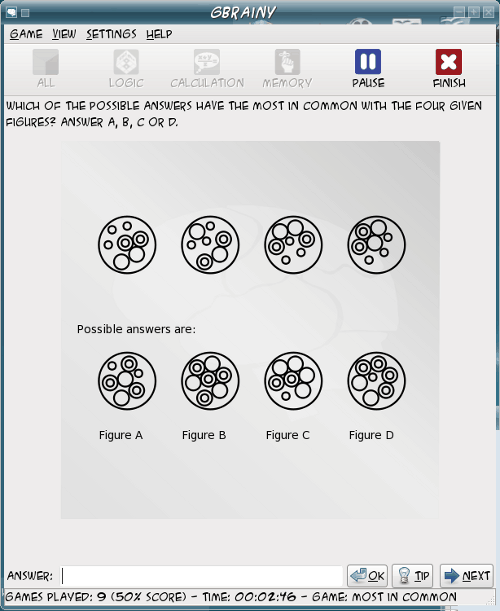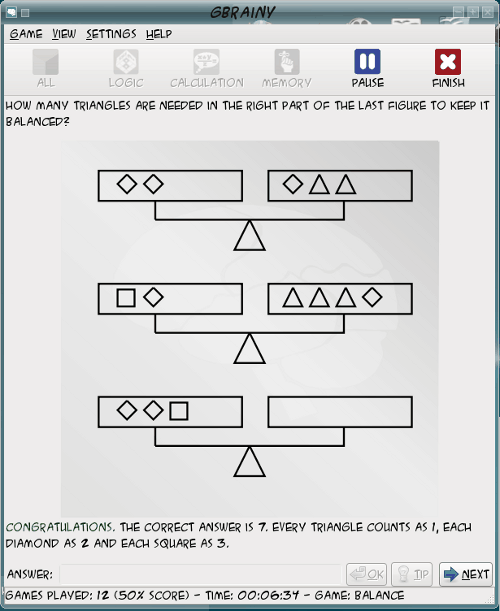 Mental Calculation — In one type, you are given three numbers and an answer and you need to provide the operations necessary to complete the calculation. In another type, you are presented with four fractions and asked which one is closest in value to a given number written in decimal form. There are also calculation problems. You may be tempted to get out your calculator, but you are also timed.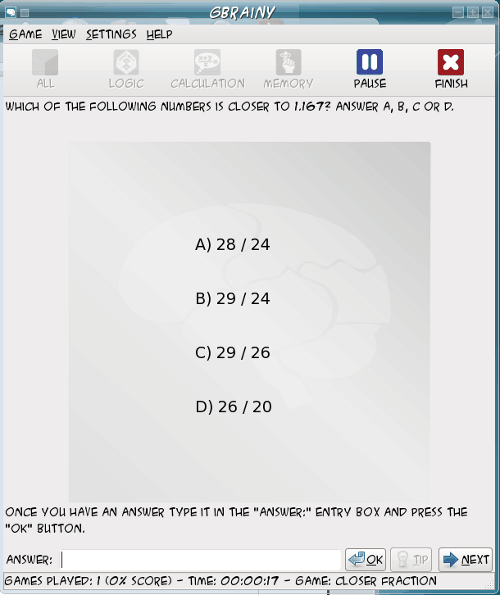 Memory Puzzles — In one type, you are given a grid of symbols to look at for a certain length of time, then all symbols in the grid except one are replaced by numbers and you are asked to remember where the other matching symbol is located. In another type you are given a certain length of time to memorize an arrangement of dots on a grid, a group of words, a group of symbols or a sequence of directions, then asked a question about it later after it has been removed.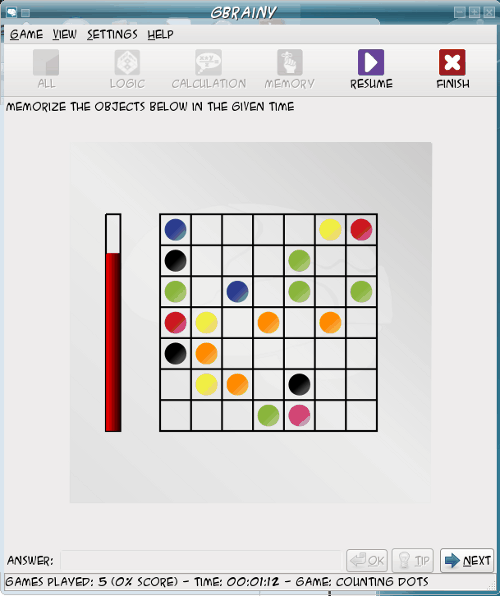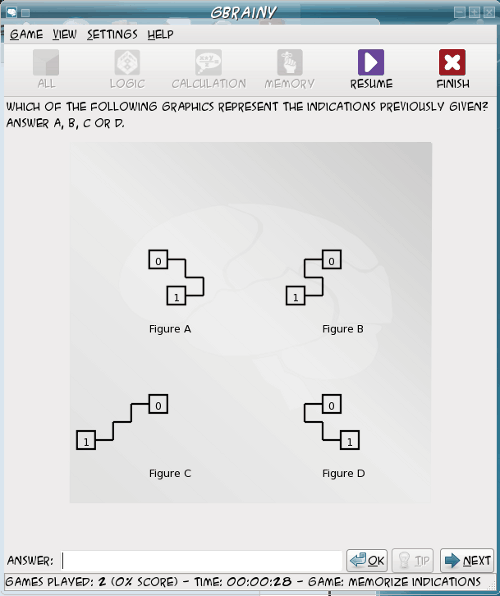 You can stop at any time by clicking on 'Finish'. When you do, you will get a score telling the total percentage of questions you got right. If you used more than one type of puzzle it will be broken down into types as well. I'm not going to tell you it's all easy... after all, we're trying to "sharpen".
The game can be configured for difficulty (Easy, Medium or Master), including how long you get to study something before it disappears (the default is 4 seconds) and whether or not you see a countdown (3, 2, 1 or a bar that fills with color.)
It is also available for Windows users (from Sourceforge.net) In the Windows version, a Verbal section is also present which does word analogies (Fish is to Aquarium as Monkey is to ?) and other word exercises.
Have fun sharpening your brain!!!!