Welcome From The Editor
by Paul Arnote
As Spring's arrival (in the Northern Hemisphere) brings a much anticipated annual renewal in nature, this Spring is also bringing the much anticipated renewal of PCLinuxOS, as users across the globe eagerly await the release of PCLinuxOS 2010. The wait is definitely getting shorter, as the PCLinuxOS 2010 Beta 1 release was just announced by Texstar. It will go out to developers first, and then open to a public beta. For more information about the most recent Beta release, see this announcement.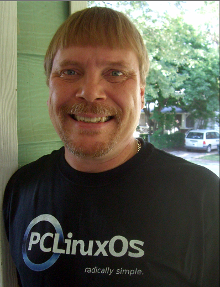 This month brings us another installment of Gary Ratliff's exploration of programming languages, with Computer Languages A to Z: Icon. We continue our look at those who work Behind The Scenes to make PCLinuxOS what it is, learning more about travisn000 this month. With the new release of PCLinuxOS 2010 looming on the horizon, we continue our look at KDE 4 SC with three more articles highlighting what's new in KDE 4. First, KDE 4: KRunner Grows Up takes a look at the changes and enhancements to KRunner. Second, Andrew Strick (stricktoo) gives us a brief glimpse at how to customize Dolphin, the default file manager in KDE 4. Third, I explore the new document viewer in KDE 4, with KDE 4: Okular Does More Than Just PDFs.
I also show a way to use MP3 files to create secure passwords, in the article Secure Passwords, Made Easy. There's also a look at the results from the LinuxQuestions.org 2009 Members Choice Awards. Meemaw reviews gbrainy, for this month's Game Zone article. Galen Seaman (gseaman) reviews the Music Notation Software in PCLinuxOS. Andrew Huff (athaki) does a web browser roundup, taking a look at all the various web browsers in the PCLinuxOS repository. Peter Kelly (critter) picks up where he left off last month, and gives us Command Line Interface Intro: Part 6.
Additionally, all the regular features are still here, in the March 2010 issue. Ms_meme's Nook features another of her PCLinuxOS songs, and in keeping with an Irish theme for March, Forum Foibles features Limericks. Mark Szorady (georgetoon) gives us another installment of Double Take, along with another of Mark's Quick Gimp Tip. Plus, we feature another 10 screen shots, from the PCLinuxOS forum's Monthly Screen Shots, in Screenshot Showcase.
As the month goes on, pay particularly close attention to the PCLinuxOS home page and the PCLinuxOS forum. I predict that the announcements are going to come along pretty fast, as we move ever closer to the final release of PCLinuxOS 2010. Texstar and the Packaging Crew have worked hard on bringing PCLinuxOS 2010 to fruition, and continue to tweak it to live up to PCLinuxOS standards, where everything "just works" and is "Radically Simple."
Until then, I wish each of you prosperity, happiness, tranquility, and peace.
Paul Arnote [parnote]
PCLinuxOS Magazine Chief Editor