Mark's Quick Gimp Tip
Happy New Year! It's a new year and a new beginning. And, as tradition dictates, we make resolutions to meet new goals and better our lives. Most of these resolutions deal with our personal well being. We resolve to lose weight, exercise more, cut out fatty foods, eat healthier foods, etc. And, like me, I'm sure you've compiled a list of resolutions that you hope to keep in the coming year. But please add one resolution to this list (especially if you're reading PCLinuxOS magazine for the first time). Resolve to give Linux and The Gimp a try.
The Gimp is the best, most complete, and most powerful graphics program on the face of the planet that comes absolutely free of charge!That's right! The Gimp is absolutely 100 percent free!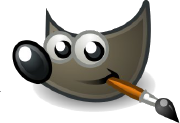 How do you get The Gimp? You can download The Gimp and install it to your computer system by visiting their web site at www.gimp.org.
But the easiest way to get The Gimp is to simply install PCLinuxOS to your computer! (Besides, it works best in Linux!) You'll not only get The Gimp already installed and ready to run, but you'll also have what I consider to be the best distribution of the Linux OS, PCLinuxOS! Start the new year right! Get PCLinuxOS and get The Gimp!