Behind The Scenes: A Chat With Hootiegibbon
by Paul Arnote (parnote)
In the continuing series of articles taking a look at the people "behind the scenes" that help keep PCLinuxOS and the forum running smoothly, we get the chance to learn more about Hootiegibbon, a Global Moderator in the main forum.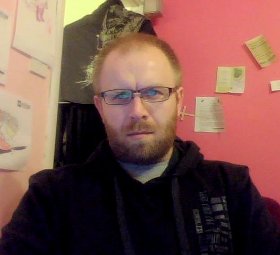 Would you introduce yourself, and tell us more about you (marital status, "real" job, full name, where you live, family, etc.)?
My "real" name is Jason Wilkinson, or Jase for short — although I often get called many other, less printable names though. I have been married for 10 years, and have 3 children. The eldest is a soon to be 9 year old boy, my daughter is 4 years old, and my youngest son has just turned 1 in December. We live in a town close to Cannock Chase, in Staffordshire England
I have worked in banking for the last 5-6 years, in a non-IT position. Previous to that, I was in various types of sales environments, from retail to door to door.
How long have you been using computers?
I first 'got' into computing after about 6 months of my wife getting her first computer, which was in 2002. So I was a 'late starter' in computing, and have no formal or informal qualifications, beyond any reputation I may have.
What was your first Linux distro?
My very first Distro was Slax — which was, and still is, an amazing operating system. I used it on the computer mentioned above, and learned some basic Linux stuff to help trouble shoot the hardware. This led to my being a Distro-Hopper of LiveCD's. Then, when I managed to get my own PC (it was a secondhand Dell Celeron 1100), I started to try out various installed Linux distro's, like SuSe, Mandrake, Bunty, etc.
When did you switch to PCLinuxOS?
I found PCLinuxOS at the 0.91 release, although it was not until the 0.92 release that i had a permanent install of it. At that time, if I recall correctly, thare were 3 ISO's released: one plain, one with fglrx, and — the one that blew me away — the NVidia ISO release. I registered with the forums a couple of months later in January 2006, although it was not until March or April that i made my first post.
What is it about PCLinuxOS that made you stick around?
The ideology and community. Both shine brighter with each release that Texstar serves out.
What "flavors" of PCLinuxOS do you use?
Most of my installs are spun from MiniMe, although I also have installs of all the versions that I use fairly regularly.
Do you run any other OS's? If so, which ones, and what attracts you to them?
Yes, there are 3 other OS's that I admire.
OpenSolaris - its rock solid, the ZFS file system is a marvel and it has a bearable Gnome Desktop environment.
PC-BSD (I say PC-BSD but it covers all of the flavors) - it has had a usable KDE4 desktop frontend for quite a while, and the BSD backend is scalable and secure. PCBSD has a great benefit in the .pbi apps that install into userspace, while maintaining compatibility with ports.
Finally, there is Haiku, which is an astonishing OS. It's still in alpha stage, although it's got a lot of potential.
I also like to look at the other 'fringe' OS's available like minuetOS and syllable via VBox
You will note that no Linux kernel based OS are named above. This is because I feel that PCLinuxOS is the best, and I tend not to keep installs of other Linux OS's.
You have quite a reputation in the PCLinuxOS Forum for being one of the resident WiFi gurus. What is the best advice you can give users who may be trying to sort out their own WiFi connectivity problems?
Google is your friend, (that and the ability to start over and reinstall if things go real bad). For the most part, problems that you have, other people have (or have had). It's just a matter of finding one of those people. With selective searching, the fix or a hint can be found.
With the exception of sorting out WiFi and network connectivity problems, what would you say is your biggest strength? You biggest weakness?
My strength? Thats a good'un. I really cant think of it. The WiFi thing just came about because of my own mistakes and problems that I faced, so i guess trouble shooting? As for weakness - anything involving packaging, or samba, as I don't have one of those windows boxes some have. There are too many weaknesses to list.
As a global moderator in the PCLinuxOS Forum, what do you find to be the most challenging part of your role there?
Judging at which point to pull a thread or post due to content. Sometimes this is easy, others its all very grey. That, and remaining diplomatic with those that fail to use 'rule one' of the forum - search first. I tend to become a little sarcastic (although I try not to be). I have had for some time now a link to the search function in my Sig.
What do you find to be the most rewarding part of your role as a forum global moderator?
The same as being a member of the forum — getting to know some great people, even if it is 'virtually.' All the global moderator bit means is that if things go astray in a thread, I can get it tidied up.
On average, how much time (per week) would you say you put into your duties as a forum global moderator?
Whenever I am online basically, normally for about 2.5hrs each week night, and for about 5 hrs on Fridays and Saturdays. So, on average, about 22 hours a week, sometimes more though.
What bird would best symbolize your personality, and why?
That is a difficult question. Possibly a stuffed and mounted Owl, as my Mrs tells me I am nocturnal and don't move much.
What song would best describe your style in dealing with issues in the forum?
Friends - by LedZeppelin
How did you come up with the name "Hootiegibbon?"
Hootiegibbon is a name my wife came up with when I started with computers and first went online. I don't actually know what a hootiegibbon is, but it has stuck with me for all this time.
What parting words of wisdom would you like to leave us with?
You are unique, just like everyone else.